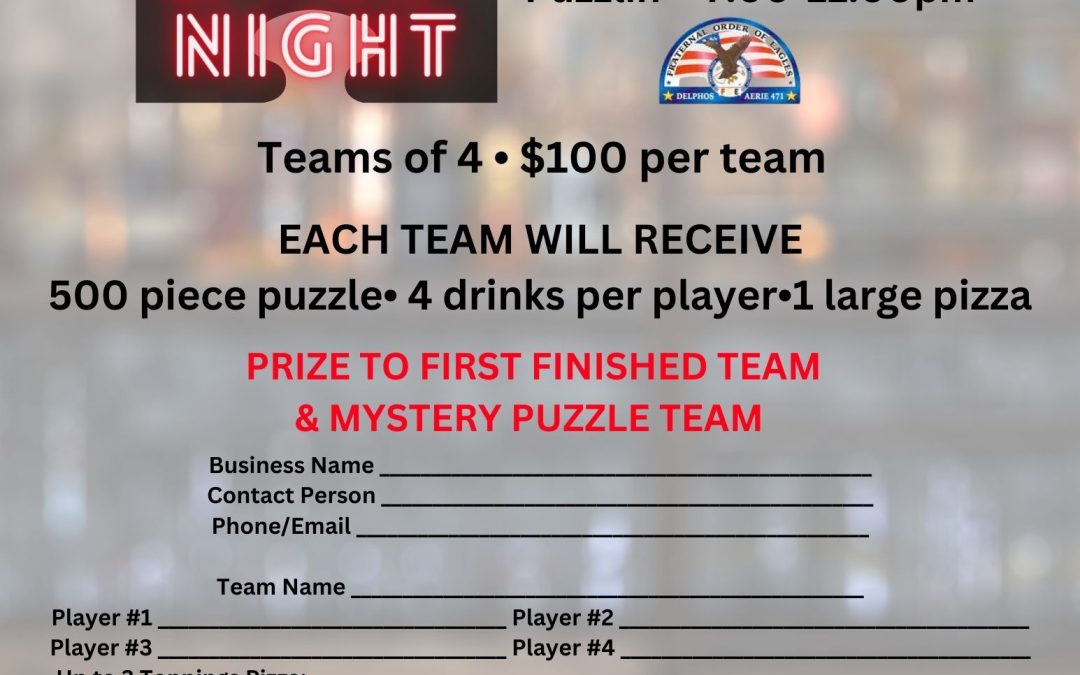 JOIN THE CHAMBER AND THE DELPHOS EAGLES FOR A FUN FRIDAY NIGHT IN NOVEMBER! PIZZA, PUZZLE & PUB NIGHT IS GREAT FOR BUSINESS NETWORKING, DEPARTMENT TEAM BUILDING OR A GROUP OF FRIENDS. OPEN TO THE PUBLIC! REGISTRATION DUE FRIDAY, NOVEMBER 3RD!
We are here for YOU and
YOUR business.
NOACC/SOCA Benefits
The Delphos Area Chamber of Commerce is a member of both the Northern and Southern Ohio Chamber Alliance, providing a vast array of benefits and cost saving plans available to ALL our members.
Board of Directors
Our membership comprises a diverse group of professionals hailing from a multitude of industries, including both accomplished businessmen and women. With a broad spectrum of expertise and experience, our members bring a wealth of knowledge and insights to our community. Local Job Board
Whether you're a job seeker looking for new career prospects or a local business seeking talented professionals, our job board connects employers and candidates, fostering economic growth and employment within our vibrant community.
Entrusted with promoting an economic environment that engages opportunities with investors for the advancement of the Delphos Area.
We strive to provide a variety of member-exclusive benefits to our investors.
Whether it is advertising & promotion, cost-savings, networking opportunities, or merely exposure in the community, we have a benefit for you!
Depending on areas of interest you have, the Delphos Chamber has plenty of programs available for you to get involved. To become a member, join the Leads Group, apply to become a Board of Directors member, or even volunteer to help out in and around our community.

Chamber leads has been a great way for our company to build positive relationships and get to know other businesses and their processes. It is a very welcoming and fun group of professionals and a great way to network. I always leave the meeting feeling empowered and positive.
– Stacy Fairchild – Vancrest Healthcare Centers

As a member of the Delphos Area Chamber of Commerce, I have been able to connect with local professionals, learn from guest speakers at events, and gain valuable exposure for my business. The chamber has provided a supportive and collaborative environment for my business to grow within the local community.
– Amanda Waltz, Esq. – Amanda Waltz Law